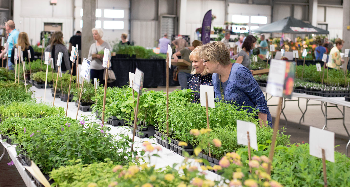 Plants, friends, music, hors d'oeuvres, and cash bar. 
Friday April 24th, 6pm-9pm

We will gather for a night of fun on Friday April 24th at the Lancaster Event Center for the Spring Affair Preview Party. Join Arboretum staff as all of us shop for our favorite plants--without the crowds! Volunteers will be onhand to help. Bring photos of your yard, if you want, to help choose just the right plant.
We'll shop for plants while enjoying live music from Osage, an acoustic band. Hors d'oeuvre stations will be open from 6-8pm (included in ticket price), along with a cash bar.
In addition to the main sale, everything from specialty plants to garden products will be offered by vendors. Bring a wagon to make the experience more enjoyable!
Proceeds from the plant sale help fund Nebraska Statewide Arboretum programs.
Become an arboretum member and get your ticket at the member price plus 10% off Spring Affair plants!
Ticket prices include sales tax on the fair market value, $16 plus a 2.5% Lancaster Event Center fee--the remainder is considered a donation. An "Arboretum Basic Membership" is considered a donation and no tax is included.