Spring Bloom Box is Sold Out 
Thank you everyone for another speedy sign up!
Want a reminder when fall sign up opens?

Bloom Box is Smart Gardening for Everybody
With plants hand-selected by our horticulturists for your unique space and style,

you'll have what you need to grow the sustainable garden you want.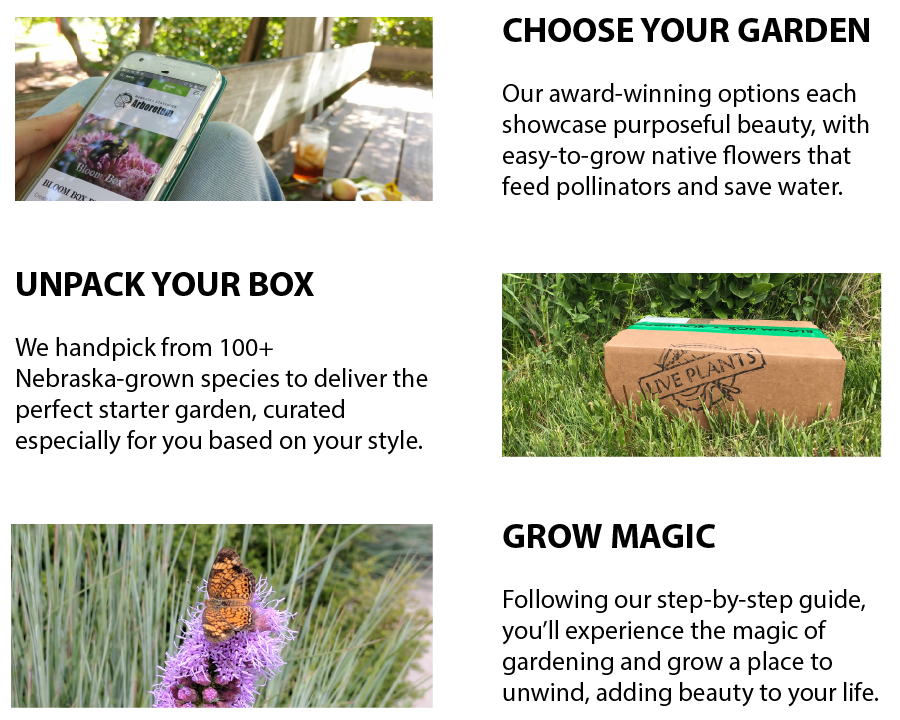 The BLOOM BOX program received the 2021 Program Excellence Award from the American Public Gardens Association this June. A sell-out every season since its beginning in 2016, this award confirms its value as a model nationwide for increasing pollinator habitat. Watch the award video to learn more about how Bloom Box had served Nebraska over the last five years.

What's in a Bloom Box? 12-54 plants, live in 3-inch-deep pots, chosen just for you.
Expert advice on how to start with prep, planting and care.
A plant-by-color plan to show you what goes where.
Plant Cards with facts on each species and its pollinator partners.
A yard sign to mark your new pollinator habitat. (*not included in Bloom Box mini)
Facebook access to our Bloom Box Gardener Group.

Why Bloom Box?

Bloom Box plants community across Nebraska
Plants for your yard or neighborhood.

Plants for public spaces in your town.

Habitat for students and insects to share.
What People Are Saying
Don't take our word for it. Check out what our customers have to say.
Our Bloom Box Partners
Would you like to sponsor Bloom Box where you are? Give us a call at 402-472-7923.