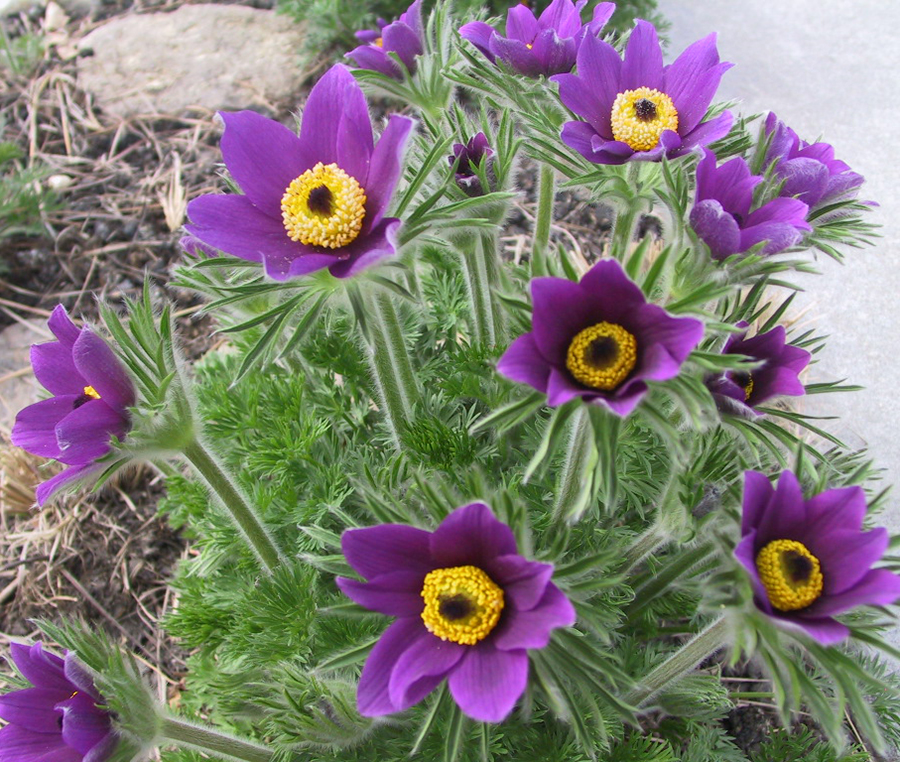 "Look closely, look often," J.E. Weaver
After months of faded winter landscapes, we are eager for green. We wait impatiently for the first crocus to open, the first bit of purple on redbuds, the first tulip. But once spring hits, it can happen so quickly we fail to notice all the amazing new unfoldings that occur almost daily.
We tend to only notice plants that are in bloom but if you pay attention, and maybe get down on your knees, there are signs of spring even in February.
Ground Level
Some low-lying plants like periwinkle, lambs' ears, penstemon, flax, prairie smoke, yarrow and many of the grasses and sedges never do lose their green, though their basal foliage is low enough to get buried under snow, leaves or debris from other plants.
As far as blooms, their common names reveal some of spring's early beauties. Snowdrops often bloom through a cover of snow and Lenten roses—as their name implies—can open in March or even February. Other bulbs like squill, crocus and narcissus are also early bloomers; and their foliage is similarly early to emerge. Scratching around in areas with spring bulbs is likely to reveal their tender shoots breaking through the soil—a promise of what is to come. Other perennials like Virginia bluebells, columbine, pasque flower, peonies and Solomon's seal should be poking through also. And the lack of chlorophyll often results in beautiful red and pink shades on the newly-emerging foliage.
Trees and Shrubs
Emerging leaves on woody plants like maples and oaks are even more likely to be in reds and pinks that can fade into the brown and gray branches. Spring-blooming magnolia, pussy willow and viburnum, however, have wonderfully hairy buds that give them a silvery appearance. Seen upclose, they're just as dramatic as any blossom.
Indoors
For those of you who just can't wait, you can take matters (branches) into your own hands. Almost any shrub that blooms in early spring can be forced into bloom inside. It's best to cut branches when the outside temperature is above freezing so they will be more pliable and transition easier to indoor temperatures. When you get inside, recut the stems by a few inches under running water to prevent air from being sucked into the vessels, and cut the stem at an angle to give the branch a larger surface to absorb water.
Pussy willow, flowering quince and forsythia lend themselves well to forcing, as well as corneliancherry dogwood, Nanking cherry, vernal witchhazel, clove currant, willow, wild plum, serviceberry, lilac and flowering quince. Late winter is also a great time to collect bare branches from hazelnuts, alders, birches and hornbeams for their dangling catkins. But it's best to wait until March or April to take cuttings from ornamentals like crabapple, magnolia and redbud.