Bioretention & Teaching Garden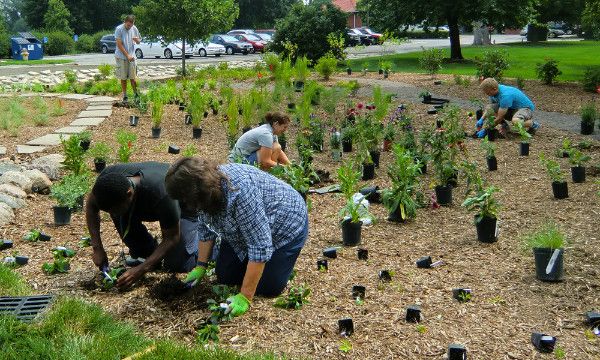 The Project
The goal of this project was to absorb and filter stormwater from adjacent parking lots at the Fort Omaha campus of Metropolitan Community College, and also give their horticulture students a rich, hands-on learning experience. It was partially funded through the Waterwise Initiative, administered by the Nebraska Statewide Arboretum with funding from the Nebraska Environmental Trust.
---
Who was Involved
Designer: Tom Bentley, Landscape Architect
Planting Design: Nebraska Statewide Arboretum & City of Omaha
Contractor: Greenlife Gardens
Plant Installation: MCC Horticulture Students and workshop
Partners: City of Omaha, Metro Community College; UNL Extension; Nebraska Statewide Arboretum / Nebraska Forest Service
---
Features
3 basins to capture and filter debris, a trial using low-cost materials
Shelter with green roof demonstration
Rain barrel
Permeable walkway through a waterwise garden
Forebay (catch basin) made of low-cost materials: Electric box and pavers. Forebays catch debris during rain storms and protect the garden from silting in.

A shelter featuring a green roof and rain barrel allows classes to gather.