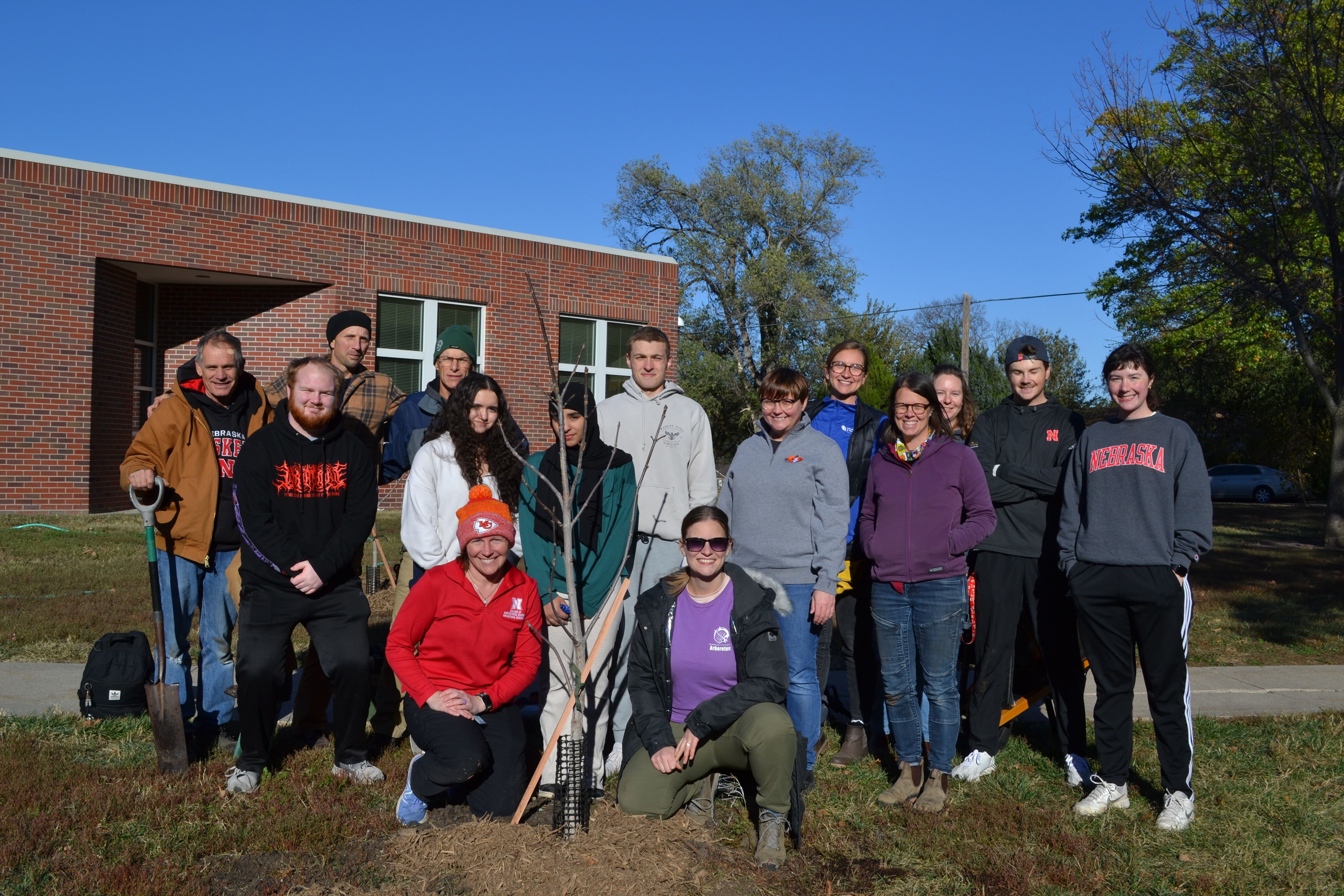 A late October cold snap didn't keep a group of hardy students at Northeast High School in Lincoln from grabbing shovels and planting 10 new trees on their school grounds this week. The students are part of the STEM (Science, Technology, Engineering and Math) Garden Club, under the Early College and Career STEM Focus program, which guides students toward exploring potential career opportunities and college pathways in the world of food, energy, water and societal systems.
Bailey Feit, who coordinates the Focus program at Northeast High School, said the STEM Garden Club was launched two years ago with the aim of encouraging students to explore how garden and landscape design concepts connect to STEM. The tree planting project was part of a collaborative effort with Nebraska Statewide Arboretum's Bloom Box @School program.
"As a school garden, we don't necessarily have the funding to be able to purchase plants and trees," said Feit, "so we are grateful for the support of the Nebraska Statewide Arboretum."
Garden Club member Eva Urman, a sophomore who helped with the tree planting, is interested in a career in landscape design or landscape architecture. "We helped plan where to plant the trees and where we wanted more shade," she said. "Eventually we hope this will help our school become a recognized tree campus."
Green Infrastructure Coordinator Justin Evertson, Horticulture Program Coordinator Bob Henrickson, and Sustainable Landscape Specialists Sarah Buckley and Brad Kindler demonstrated how to disentangle pot-bound roots and explained how to measure proper planting depth and stake the newly planted trees. The students then pitched in, helping to dig holes and plant, stake, mulch and water the new trees.
"It's great for the students to have this very hands-on experience," added Feit. "This partnership with the Arboretum has been a great fit for us."