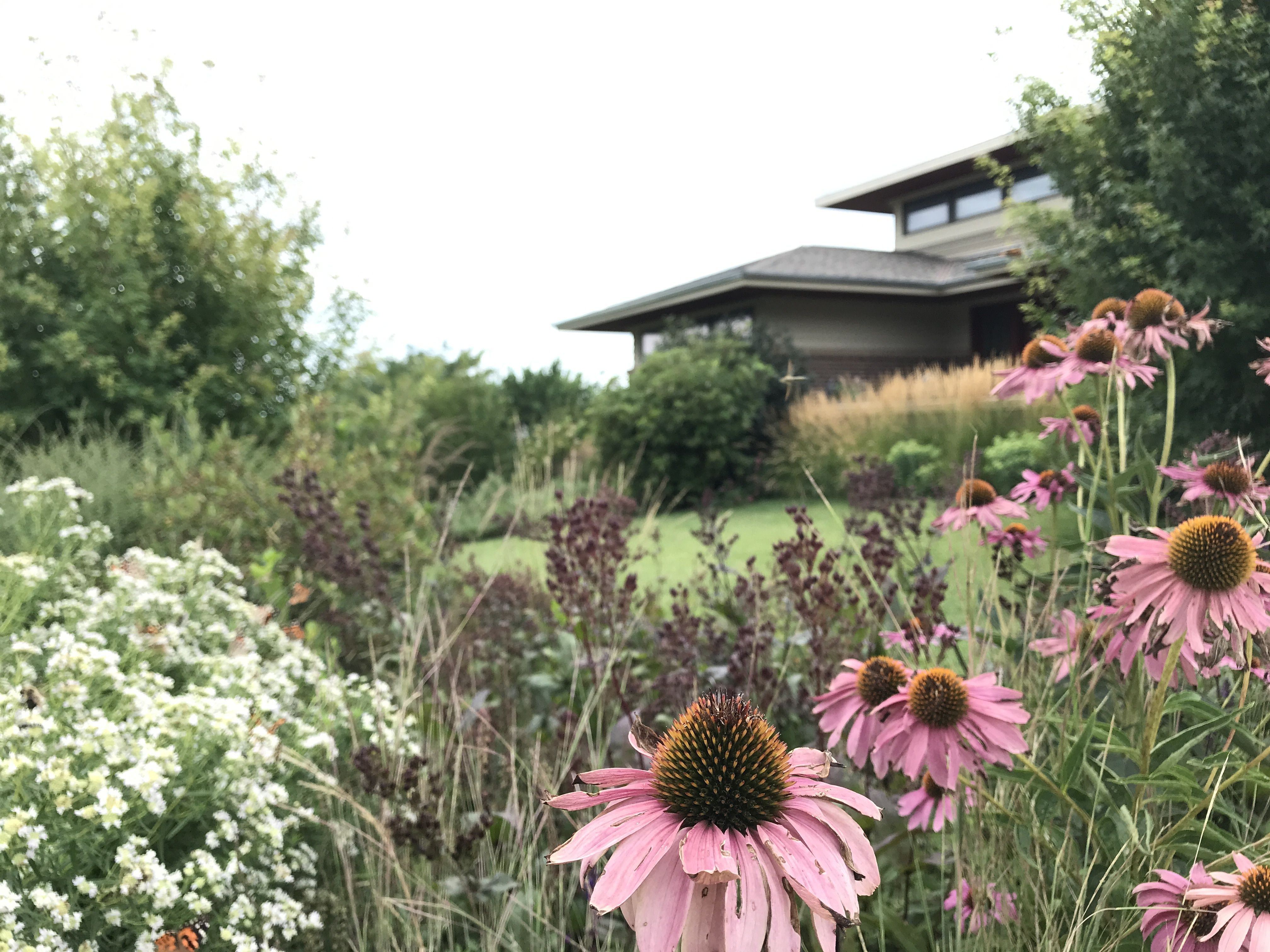 Eastern Nebraska has seen some VERY welcome rain in recent days. However, the horrible drought that has engulfed the area for more than a year now is probably not over just yet. In fact, despite the rainfall, the record drought has led some municipalities to issue warnings and water restrictions in recent days and weeks as they struggle to keep up with demand.
The biggest demand for municipal water in the summer in Nebraska is, by far, for lawn irrigation, which can account for up to 80% of city water use on a hot day. If we want to have reliable water supplies for drinking, cooking, bathing and other important uses, we need to cut back on our lawn watering now, and we should consider adopting more lawn and landscape practices that reduce our future dependency on irrigation.
Below are some immediate and longer-term "waterwise" practices homeowners can consider adopting in their own landscapes. Additional resources are available via our searchable resource library; search with the keywords "water conservation."
Tips for Conserving Water in Your Home Landscape
Turn off the timer and take an active role in lawn irrigation. Treat sprinklers as a backup in times of drought rather than the main source of water for your lawn. Water deeply and less often to encourage root growth. Once a week watering and only during dry stretches should be the norm. Believe it or not, an attractive lawn can be achieved with very little supplemental water most years in eastern Nebraska.

Shut off the irrigation zone in the curb strip between the curb and sidewalk. This is where a lot of irrigation water is wasted as runoff down the street. These curb strips are good places to try low-water groundcovers, buffalo grass or other plantings.

Accept some mid-summer drabness and dormancy in your lawn. Water enough to keep the lawn alive and healthy but not necessarily lush and green. Don't worry, it will perk up in the fall!

Mow 4" high and less often, which will help keep grass more drought-resistant while also reducing weed pressure.

Be smart with sprinklers and soaker hoses. Avoid using sprinklers that spray high into the air where more water is lost to the wind and evaporation. And consider using soaker hoses for vegetable gardens, flower beds and around trees and shrubs. Soaker hoses put the water right where the plants need it - at the roots -- which means more water goes into the ground instead of evaporating.

Water early in the morning when plants are best able to absorb it and less is lost to evaporation.

Keep the soil covered in plants or mulch. Open soil loses water to evaporation very quickly. A layer of wood chip mulch 2-3" deep helps trap water in the soil and provides protection from the hot sun (and weeds). Living mulch uses smaller groundcover plants between larger ones to keep the soil covered and protected.

Replace thirsty turf grasses like bluegrass with drought-tolerant species like buffalo grass or tall fescue, and consider adding white clover to the mix. Another good option is to use meadow species such as sedges under trees or in other areas where frequent mowing is unnecessary.

Limit the total amount of high-input lawn to only those places that make sense. such as where kids and dogs play or where heavy foot traffic is anticipated. Slowly convert the rest to low-water-use plantings.

Aim the rain – consider a rain garden! Look for space to include a swale or depression that will help to capture and slow rainwater and put it to better use. Try to direct water from downspouts and pavement into these rain garden areas.

Use more native plants in the landscape. There are a wide variety of colorful and attractive native plants that are drought-tolerant and which help support pollinators.

Plant more trees and shrubs. There are many attractive and incredibly drought-tolerant trees and shrubs that can be planted. Trees help cast shade and block wind that reduces water evaporation from the landscape. And tree canopies help slow and capture rain so that less of it runs off into the street. Shrubs provide year-round beauty, wildlife habitat, screening and space definition, while reducing the amount of lawn to maintain.

Think about how your landscape is managed and maintained. Instead of turning over landscape care solely to a "mow and spray" lawncare company, try to allocate a portion of your landscape budget for landscape professionals who can help you create a holistic vision that considers the lawn just one element of a resilient, biodiverse, beautiful and drought-tolerant landscape
Drought is hard on people, plants and animals, to be sure, but implementing some smart water conservation strategies and sustainable landscaping practices can help your yard and the many animals and insects that live there survive and thrive in even the toughest conditions.