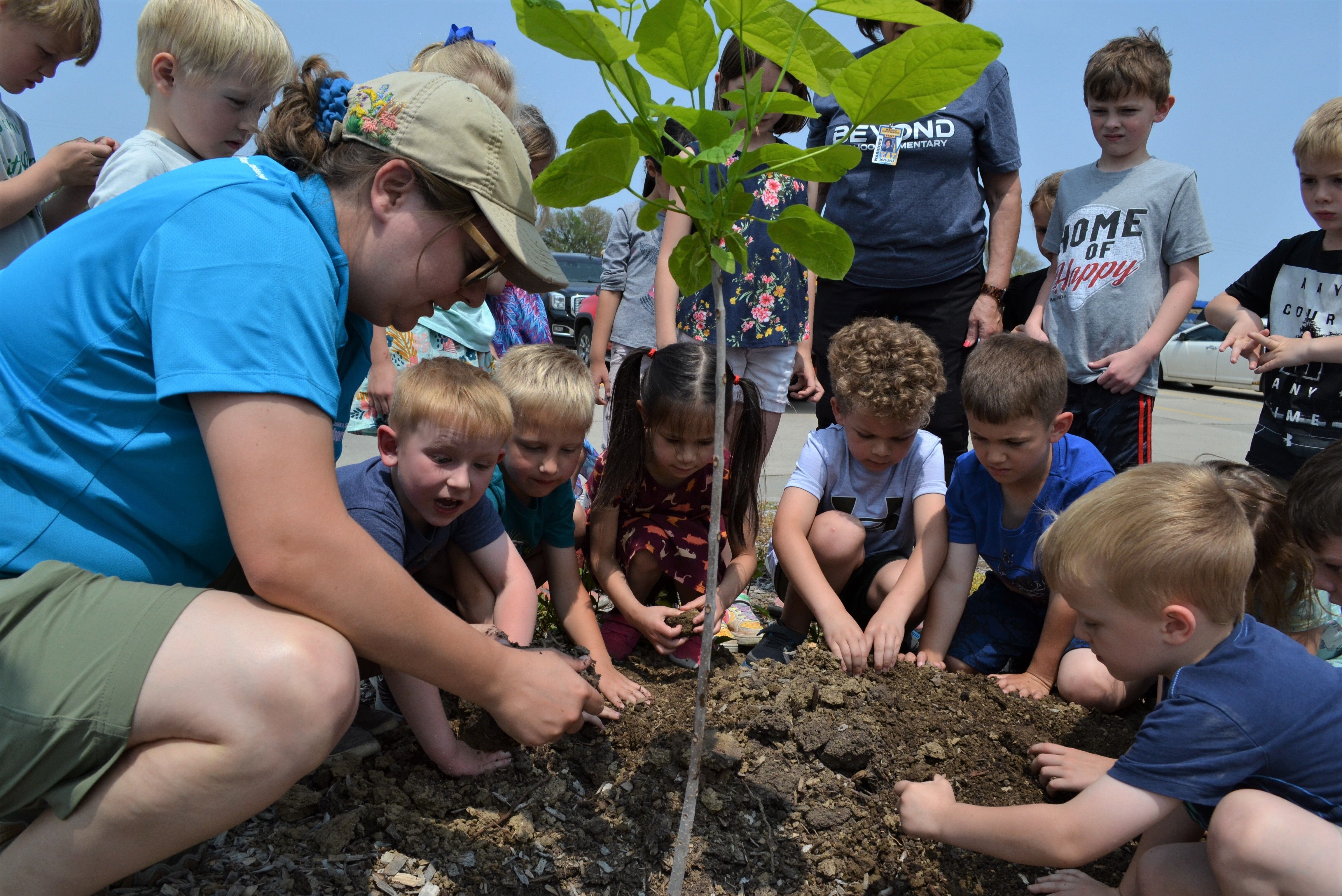 When you think of Nebraska Statewide Arboretum, you might recall our 100+ arboretums and landscape stewardship affiliate sites across the state or the many community projects we do with our municipal partners and local businesses. What you might not know is that we also partner with Nebraska schools to help youngsters (and their teachers!) learn about the importance of trees and native pollinator plants in creating a sustainable landscape.
Last week we connected with kindergarteners and high schoolers at Wahoo Public Schools to plant Northern catalpa, sycamore, American linden and black cherry trees throughout the sprawling grounds. As the trees mature, they will provide much-needed shade in the parking lot and along the street.
"Connecting kids with nature helps them understand that nature is more than things we see, but is living and breathing all around us, and that can have a positive impact on them," said Josh Synder, director of learning for Wahoo Public Schools. "Experiences like this tree planting help to reenergize young learners to the positive benefits of the outdoors. Trees, flowers, butterflies and bees…it's a great place to start."
Later in the week, NSA staff stopped at Underwood Hills Learning Center in Omaha to help 20 preschoolers plant a pollinator garden. The kids learned about why pollinator plants like milkweed, aster and coreopsis are important to butterflies, bees and other insects, and they enjoyed planting the perennials with their very own trowels donated by NSA's Bloom Box @School program.
NSA's Bloom Box @School program is free to participating schools. Each school receives a 100 square foot Bloom Box garden, five hand trowels, 15 pairs of gloves and a 5 gallon bucket. In return, they send one or two teachers to Project Learning Tree outdoor education training and create a club for students to plant and learn in the garden.
"This program benefits teachers, students and the environment," said NSA Sustainable Landscape Coordinator Sarah Buckley. "It really is a win-win for everyone, plus it's a lot of fun!"
If you'd like to help support NSA's Bloom Box @School program, visit our Amazon Wish List to see what supplies we need. Thank you!