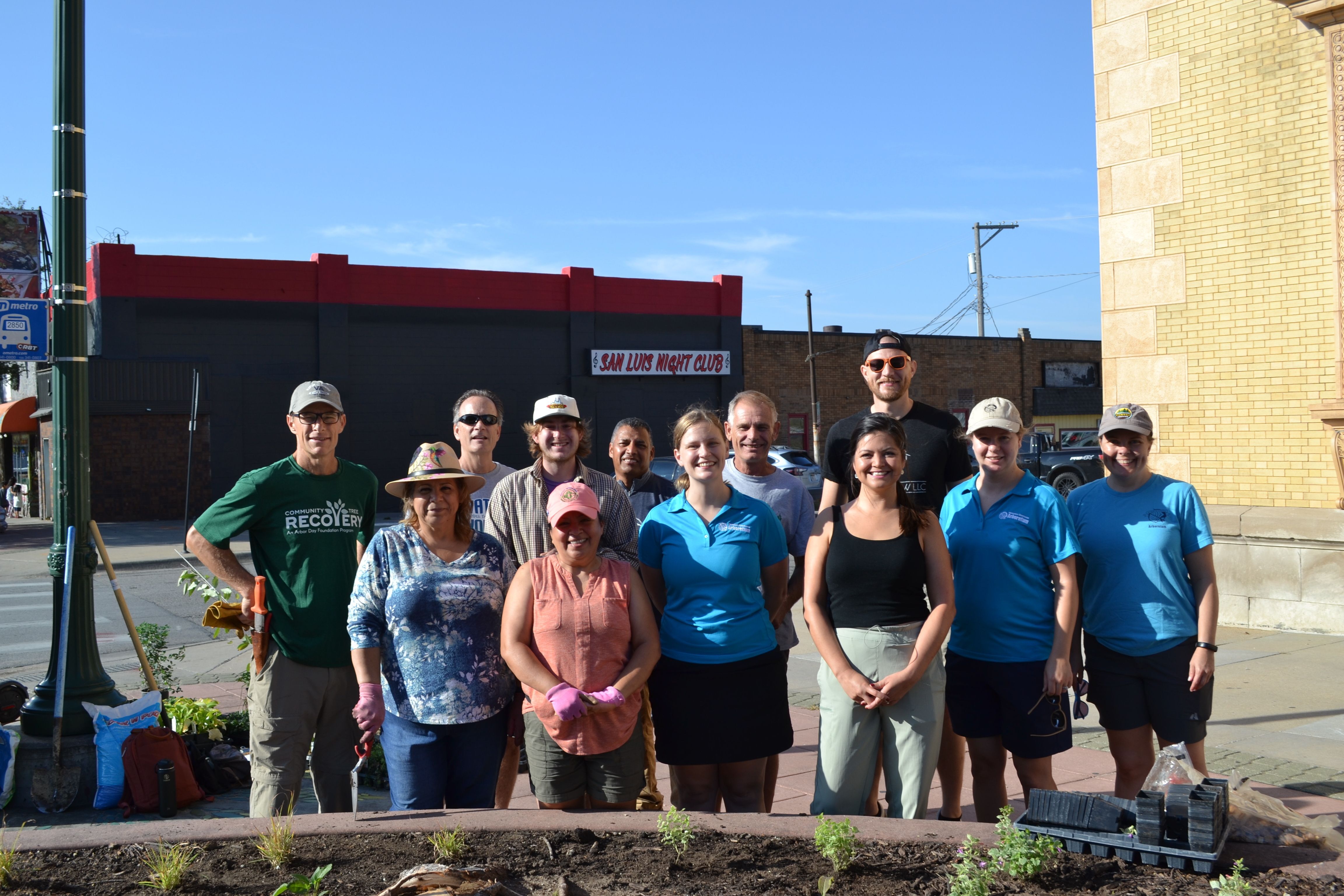 At Nebraska Statewide Arboretum, we take our middle name seriously: we plant Nebraska from east to west and everywhere in between. For instance, within the span of one week this month, we were in both Omaha and Sidney, working with businesses and organizations to help beautify communities and neighborhoods with sustainable plantings.
NSA Program Coordinator Sarah Buckley road tripped to Sidney with a pickup full of plants to help the local garden club at the Living Memorial Gardens add some perennials to their beautiful landscape. This garden has a unique history, beginning in 1982 when a local art teacher suggested to the town that the defunct, weed-choked swimming pool be turned into a sunken garden. The idea became a reality, and 40 years later the garden still thrives with trees, shrubs, annuals and perennials planted in memory of loved ones. 
Back in Omaha few days later, NSA partnered with the South Omaha Business Improvement District organizers and local volunteers to spruce up planters along the street with drought-tolerant natives.
Karen Pesek, director of finance at Pesek law and volunteer coordinator for the South Omaha Business Improvement District, first saw a post about NSA plant grants on social media last year. She contacted Buckley, who came out to the South 24th Street location for a site visit, and together they created a plan to fill the planters over three seasons -- beginning this September -- with hardy, native perennials.
Previously the planters were filled with annuals, which struggled to thrive in the heat without ample watering. Planting the annuals every year was also very expensive, while using native perennials that can tolerate Nebraska's sizzling summer temperatures and lack of rainfall will be a much more efficient and cost-effective solution. 
"This is a labor of love," said Pesek. "We can see how this kind of natural beauty benefits the neighborhood. It makes people feel safer; it makes them feel secure. These plantings will add to the vibrant environment and flavor of the culture that is already here."
Interested in exploring possible funding opportunities for your community or organization? Visit our project funding webpage for more information.