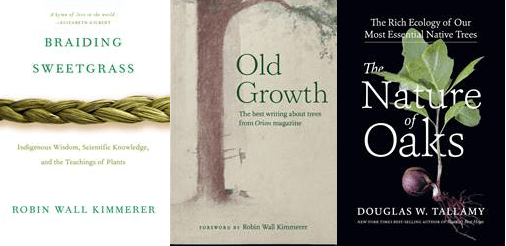 Happy Friday. I'm generally not one that reads a lot of books as I don't usually have the attention span to get through them. I mostly gravitate to news articles, magazines and essays, especially things related to science and nature. However, over the last year or two I've enjoyed reading some tree and nature-related books that held my attention quite well and helped keep me motivated about trying to do right by the natural world around us. Here are a few of those books that I can recommend. I'm also including some links to tree or landscape-oriented on-line presentations that you might find worthy of clicking on. Please share book recommendations with me and I'll pass them on.
Braiding Sweetgrass by Robin Wall Kimmerer really resonated with me in its effort to connect humans with the natural world and to have our minds open to the teachings of plants as we strive to be better stewards of the earth and to be better to each other. Trees take a starring role in the book and I learned new ways to appreciate many of our sylvan friends. I was especially intrigued on the discussions around sugar maple. I highly recommend this book, especially if you're looking for ways to be motivated about ecology and environmental stewardship.
Old Growth was a fun read as it was full of essays, poems and short stories about trees and our connections to them from a variety of authors. Robin Wall Kimmerer sums it up well: "This book is an arboretum of essays not showcasing "trees" as a class of beings, but rather stories of inter-species relationships of an arboreal kind, as diverse in scope as trees are in leaf".
And I enjoyed Doug Tallamy's look at the "rich ecology of oaks" as he focuses on one tree growing in his yard in Pennsylvania and follows it over a year conveying the incredibly diverse web of life around one of our most important and loved trees. The book does a great job explaining how the planting of an oak tree, or even the acorn, is one of the best ways anyone can make a difference for ecology in their own yard and beyond. And of course a maturing oak tree will also return a myriad of important benefits around shade, energy conservation, stormwater capture, carbon capture and edible nuts. If you have room for only one tree, plant an oak dammit!